The Bois de Grandhan family mountain bike ride starts in Durbuy at the large car park just outside the old city.
From the start: the RAVeL cycle path
plus a slope to get you in shape! Follow the Ri de Savon ('Soap Stream'), so named because it is the colour of soapy water, after flowing through the clay-rich soil of Bois de Grandhan.
The name Petithan refers to the bend of the Ourthe, which is smaller than the bend in which the neighbouring village of Grandhan is located. Just after the village, the RAVeL path enters Bois de Petithan. This wood is typical of the Famenne with its small oaks and hornbeams; you may see stacks of firewood alongside the path.
Beaver ponds
Just before the right-angled bend, you can see three ponds whose level is regulated by the beavers who have taken up residence there. Beavers build dams of varying permeability at the entrance to each water body, thus camouflaging the entrance to their habitat and ensuring that there is always plenty of water all around – they are talented architects!
You won't see them during the day, but try your luck at dusk.
Time for some dirt tracks which are sometimes very muddy
The route leaves the RAVeL path and carries on through the woods to the main road. You are in clay-rich terrain. A few kilometres away a brickyard was in operation until 1974, producing a brick ('brique de Rome') which was very popular with builders. Unfortunately, the seam of clay has run out.
In this wood you will notice a lot of firewood and some magnificent oak trees with fine straight trunks. Beech trees are not in their element at this altitude and in the difficult terrain of the Famenne.
After crossing the regional road, you pass through Bois de Somme.
Grandhan: an age-old village
Grandhan: the Ourthe sculpted this village, and the Middle Ages imparted to it the tranquillity of its stones, its farms and its churches. And when people live at one with nature, the harmony of the landscape is boundless…
When you have left the village, crossed the Ourthe and gained a little height, take the time to stop and look back. The scenery is superb. Any idea how many bell towers you can see in the village?
Le Coreux
That is the name of the hill in front of you. The descent is not easy. The path has a lot of ruts, as the ground consists of clay and decomposed shale, so mind how you go!
As you have seen, there isn't much cropland in Famenne: the terrain consists of meadows and forests with modest trees. This is because of the nature of the soil and subsoil.
The descent ends in a residential area and the regional road. Cycle carefully.
A few more pedal strokes and you are back at the RAVeL path and your starting-point.
Practical information
Route 3
Start: Durbuy, Parking Pré Georis
Distance: 14,6 km
Approximate duration: 1 hour 45 minutes
Total climb: 208 m
Features: muddy paths in wet weather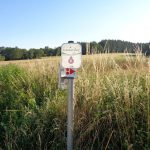 Si le fichier s'ouvre directement dans le navigateur :
sur ordinateur, clic droit + Enregistrer la cible du lien sous.
sur téléphone, appui long + Télécharger le lien