The Aisne valley
This 23.3 km mountain bike ride starts from Bomal at Place du Sassin, in front of the tourist office.
The spirited River Aisne has carved out a magnificent, steep-sided valley offering magnificent views. It is very popular with anglers, but note that its course is reserved for its owners.
The route runs from one side to the other of this lovely, wild valley, passing through forest and open country in turn. There are significant climbs and descents, making this a favourite choice for the more energetic cyclists.
Saint Rahy hill
The first slope takes you to Saint Rahy. This village had as many as 26 houses, and encompassed Petit Bomal and Juzaine. It probably disappeared due to an epidemic, which forced its inhabitants to abandon it in the late 16th century. The story of this epidemic may originate in a legend about the disappearance of the statue of Saint-Rahy: numerous people died, but the epidemic ended immediately when the statue was restored to its position.
Towards Ozo and Villers-Sainte-Gertrude
The next village is Ozo, where you will join the route of the Ferme de Strasbourg circular walk as far as Villers-Sainte-Gertrude. This small village lies in the Calestienne, which explains its predominantly farming character. A menhir between the hamlet and Izier is part of the pattern of megaliths that is clearly visible in Wéris.
In the distance, to the left, you can admire the village of Izier, with its medieval tower and its water tower, which is a landmark that can be seen from far and wide.
The path takes you into Bois du Boulac where you will come across the Pont le Prêtre stream, which you will follow as far as Villers-Sainte-Gertrude. The history of Villers dates back over 1,000 years. Its castle was built in the 17th century and restored in both the 18th and 19th centuries. It is used as a meeting and accommodation facility for young people.
Heyd: a village on the other side of the valley
After the descent towards Roche à Frêne (taking the same path as the Moulin des Roches walk), you cross the river. There is then a serious climb as far as the beginning of the village of Heyd, after which it's back down towards Aisne quarry, which you bypass, and then another climb up to Mont des Pins, a beautiful nature reserve; after this you find yourself back at the starting-point in Bomal
Practical information
Route 6
Distance :23,2 km
Approximate duration: 3 hours
Level of difficulty: difficult
Distinctive features: 55% road, 45% paths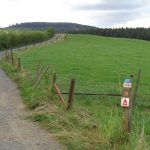 Si le fichier s'ouvre directement dans le navigateur :
sur ordinateur, clic droit + Enregistrer la cible du lien sous.
sur téléphone, appui long + Télécharger le lien