A rather steep start
Bois de Viné, a mountain bike route starting in Durbuy, takes you to the Condroz plateau with its magnificent scenery and limestone houses.
The start is rather steep, and muddy in wet weather!
Just before the forest path, a large building stands alongside the Vedeur stream. This is a former factory where folding rulers were made, which was subsequently converted into a hotel and restaurant. A long dry stone wall retains the garden overlooking the stream. The path through the woods is not always easy, especially if there have been frequent downfalls. The path is also waymarked for the Fond de Vedeur circular walk and mountain bike route, 4, the 'Ridges of the Ourthe'.
A miraculous spring
After this lovely climb, you can catch your breath at the Sainte Geneviève pond and its miraculous spring.
The beavers have taken over the area and submerged the nearby spring. These little mammals are fine architects and great workers: they rebuild tirelessly if humans destroy their work.
The Palenge-Septon forest
When you reach Palenge, the route turns right towards Rue de la Forêt. Be careful, it's very steep going!
Game is plentiful in this forest, especially roe deer and wild boar. If you want to see a red deer, you will have more luck near Manhay – the 'big forest' as it is referred to in these parts. Shhh, go quietly, as wild animals don't like to be disturbed. During the hunting season, follow the instructions given at the various entrances to the forest: your safety depends on it!
When you are right at the top, take a break and admire the fabulous scenery
To your right are the Ourthe valley, the Famenne and, in the background, the Ardennes. To your left, the Condroz with its ridges and troughs and, in the foreground, the Néblon valley. What a sight!
The long straight stretch that follows takes walkers to La Haisse (or La Hesse as it used to be known). You pass through a forest of beech trees which are particularly well-built, thanks to the fertile soil and suitable altitude here. You will find lots of frogs' eggs in the ruts in the spring.
The old lazaret of La Haisse
Coming out of the wood, after crossing the main road you will see a fine isolated dwelling – an old farm that has been restored as a private house. Lepers used to take refuge here, to receive treatment and avoid spreading contamination. When leprosy disappeared, this place became a hermitage. A little further, the landscape opens up again, in the direction of Liège on the left.
If you don't mind a little detour, visit the Romanesque church of Tohogne. It is well worth it, as is the village itself, with its limestone rubble buildings.
The final part of the route is downhill through the pretty village of Warre, bringing you back to Durbuy.
Practical information
Route 2
Start : Durbuy Pré Joris (parking gratuit)
Dénivelé: 340m
Distance :19,2km
Approximate duration: 2 hours 50 minutes
Level of difficulty: difficult
Distinctive features: 25% road, 75% paths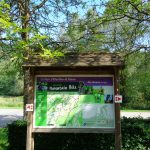 Si le fichier s'ouvre directement dans le navigateur :
sur ordinateur, clic droit + Enregistrer la cible du lien sous.
sur téléphone, appui long + Télécharger le lien