Walking: explore at your own pace
Our region offers a great diversity of landscapes shaped by water and wind.
Our circular walking routes will bring you to superb viewpoints and out-of-the-way spots where time seems to stand still.
The condition of our paths depends on the subsoil, and you may have to adapt your walking gear accordingly.
The Famenne (clay and shale subsoil) with its abundant plant life requires good footwear: the soil is impermeable, so it stays muddy for long periods of time. If there is heavy rain, you will need boots.
The Ourthe plain requires good footwear as the silt layer is thick and sometimes waterlogged.
The paths in the Ardennes (shale and sandstone) are generally drier but also significantly steeper. Think about protecting your feet and ankles.
If you like woodland walks, bear in mind that the forest is a source of income from logging. This operation causes temporary damage to paths, and in rainy weather they can become very difficult going. For each walk on this website, we indicate the starting point, the level of difficulty, any work in progress or other factors that affect the gear you will need.
Twenty waymarked walks of different lengths starting from our villages introduce you to the riches of our natural and cultural heritage and wonderful landscapes. For the more adventurous, the the waymarked trails offer alternatives of different levels of distance and difficulty.
Walks without waymarking offer opportunities for more specific exploration Enjoy these for their specific highlights The 'Best of the best' walks, the charm of different locations or simply the pleasure of time spent together. A GPX file will be your guide.
Make the most of the descriptions of different routes.
Enjoy your walk!
Les bonnes pratiques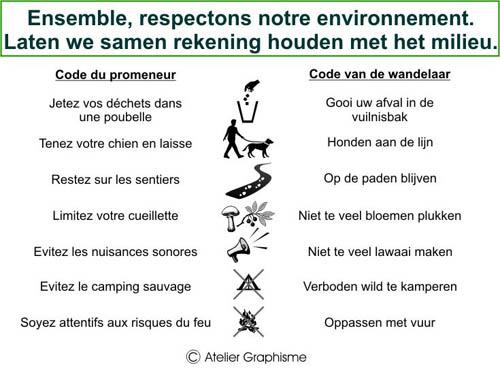 GPS circular mountain bike routes without waymarking
TRAILS
Sportsmen will find on these courses adapted to their level, something to do through countryside and forests …
TRAILS
Prepare your walk
You will find useful information on our website, but there is nothing like a map to find your way!
Visit our shop
The latest hiking news
Brief description This medieval-themed walk leads to the plateau of Rahiermont (Mont-St-Rahy), rich in history,...