The ridges of the Ourthe: a mountain bike route around Durbuy
The starting-point of the 'Ridges of the Ourthe' mountain bike route is in Durbuy, a village by the Ourthe famous for its historic heart and gastronomy.
Le Vedeur
On the way out of the city stands an old industrial building – a factory where folding rulers used to be made – by the Vedeur stream. Enter the woods. The path follows the course of the stream as far as Sainte Geneviève's pond.
Onwards and upwards
At Palenge, leave the road and head towards the wood, then descend to Septon before climbing to Coin à Viné. At the top, take a well-deserved break to admire the landscape: to your right is the Ourthe valley with the Ardennes in the distance, while on your left is the Condroz, and you can just see the Néblon valley.
After you have passed through Bois de Viné and crossed the main road, the buildings of La Haisse come into view. Lepers from the Durbuy area lived here at one time; later it became a hermitage.
A little further on, the scenery is again magnificent.
The route bypasses the village of Tohogne, but a detour via the church is well worth it!
After a beautiful descent, Bomal
One unusual feature of Bomal is that it has two nature reserves: Herbet and Mont des Pins. These two reserves highlight dry limestone grassland and its distinctive flora. The route starts by climbing Mont des Pins, named after the pines with which it was still covered ten years ago.
Bois de Hottemme, et bois des Hazalles
In the middle of Bois de Hottemme, which adjoins a park bearing the same name, a descent immediately begins towards Barvaux. On leaving the woods, you cross a stream, the Ry à Doret , before joining the road that leads to Barvaux railway station. After the level crossing, don't go too fast, as the route takes the first street on the left. Be careful, it's a tight turn! Leaving the village, you pass under the railway bridge to start the climb to Bois des Hazalles; this section of the route is also part of the Famenne walk. The land along the railway line has plant life typical of dry shale grassland.
On the way to the old city of Durbuy
After the residential area, you cycle along the main road for a short distance, taking great care.
You come to a path, which can be difficult in wet weather. In the right season, mushrooms are plentiful.
At Petit-Han, the route meets the RAVel network, bringing you to the old city of Durbuy. Take the time to stroll through the historic centre and try the many local specialities. The next climbs are long and steep.
Practical information
Route 4
Start: Durbuy, Pré Georis car park
Distance: 35.6 km
Total climb: 690 m
Features: difficult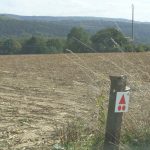 Si le fichier s'ouvre directement dans le navigateur :
sur ordinateur, clic droit + Enregistrer la cible du lien sous.
sur téléphone, appui long + Télécharger le lien