Brief description
The Néblon valley route passes from one bank to the other of the river of that name. At the northern edge of the municipality of Durbuy, it crosses part of the Condruz with a foray into the municipality of Hamoir. This river has its source in Méan. After passing through Bonsin in the commune of Somme-Leuze, it soon arrives at the point where three provinces (Namur, Liège and Luxembourg) meet. For a while it forms the boundary between the provinces of Liège and Luxembourg, then pursues its course between the villages of Ocquier (municipality of Clavier) and Oneux (municipality of Durbuy), and flows below the lovely village of Jenneret. After passing through the hamlets of Néblon-le-Moulin and Néblon-le-Pierreux (municipality of Ouffet), the little river arrives at Hamoir, where it joins the Ourthe via its left bank. Much of its course is at the forest edge.
A modest but ubiquitous part of the historical heritage
Right from the start, look out for the many wayside crosses. These bear witness to the expectations, fears, joys and devotion of the people of the nearby villages. Leaving Longueville on the left, you will see a last cross on a lime tree, which is a 'nail tree': the nails were fastened to the tree to relieve the sick of their ailments… Standing in open country on the highest piece of ground, it attracts the eye and serves as a landmark.
A little steep-sided valley
In Oneux, a little village in the former municipality of Borlon, you leave the plateau and return to the valley at Amas. After the bridge you are in the Province of Liège. Admire the old mill and adjacent ponds and savour the tranquil atmosphere.
Get ready for the long ascent before you reach Bende and find yourself back in the municipality of Durbuy
Bende and Jenneret, two lovely villages
The peaceful village of Bende and the nearby Jenneret joined the municipality of Durbuy when the municipalities were merged in 1977.
On the descent between Bende and Jenneret stands the chapel of Notre Dame de la Paix (Our Lady of Peace). Built after the First World War (1921), it pays homage to soldiers from the local area. Directly opposite, you will see a boundary post erected to mark Belgium's centenary. A hundred lime trees were planted along the avenue between the two villages on the occasion.
The end of the route
Enjoy the easy cycling as you follow the Néblon; the next stretch is more challenging. If you feel like it, stop at Hamoir before ascending to the finish.
Hamoir is a small town which in the Middle Ages was a dependency of the County of Logne and hence Stavelot Abbey. It has benefited as a location for tourism from its location on the Ourthe.
You leave Hamoir by a country lane to return to Hermanne and Houmart, your starting-point.
Practical information
Route 8
Start: Houmart centre
Distance: 25,30 km
Approximate duration: 2h45
Level of difficulty: moderate
Defining features: 55% paths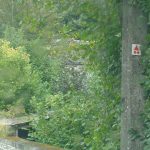 Si le fichier s'ouvre directement dans le navigateur :
sur ordinateur, clic droit + Enregistrer la cible du lien sous.
sur téléphone, appui long + Télécharger le lien