The tour of the megaliths, a pleasant mountain bike route that passes through the Wéris countryside, starting from Barvaux-sur-Ourthe.
Bois des Hazalles and Bois de Biron
As soon as you leave Barvaux, you enter Bois des Hazalles, a wood typical of the dry parts of the Famenne. The trees grow in shale, and the soil layer is almost non-existent. Despite this, some less common plants grow happily here, being able to flourish in these difficult conditions. The side of the road along the railway line is therefore protected.
The denser Bois de Biron is home to many species of mushroom.
Menhirs and dolmens
The route passes near the menhirs and dolmens that form a unique megalithic grouping in Belgium. It is made of puddingstone, and was created by the people of the Seine-Oise-Marne civilisation (3000 years BC), who extracted the rough boulders from a puddingstone layer located above the villages of Wéris and Heyd. The means of transport they used were rather different from today. To find out more, stop at the Maison des Mégalithes in the centre of Wéris.
One of Wallonia's most beautiful villages: Wéris
This accolade is justified by the heart of this village, with its exceptional limestone buildings and its superb Romanesque church.
If you want to take a break, numerous establishments offer cold drinks, snacks or something more substantial if you prefer.
You can follow a tourist route with information boards around the centre of the village, starting from the Maison des Mégalithes.
Heyd , one last push before returning to the starting-point
Leaving the menhirs and dolmens, you pass through the Wéris countryside – fertile crop-growing land. This part of the route is located in the Calestienne, a geological zone characterised by its limestone soil. The plateau consists of a mix of meadows and cropfields. After the village of Morville, a slope to the top of the village of Heyd requires a final push. At Col du Rideux, you are then rewarded for your efforts with a big descent. As you leave the village, you go past numerous crosses bearing witness to significant events in past lives: thanks for a healing, for a soldier's return from the war, and so on. There are many of these crosses to be found in the municipality. Remember to admire the scenery before you make the last descent into the woods and return to Barvaux-sur-Ourthe.
Practical information
Route 5
Start: Barvaux-Parc Juliénas
Distance: 27,4 km
Approximate duration: 3 hours 10 minutes
Total climb: 480 m
Defining features: 45% paths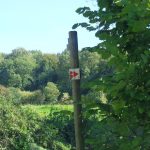 Si le fichier s'ouvre directement dans le navigateur :
sur ordinateur, clic droit + Enregistrer la cible du lien sous.
sur téléphone, appui long + Télécharger le lien